KMB coats with adhesives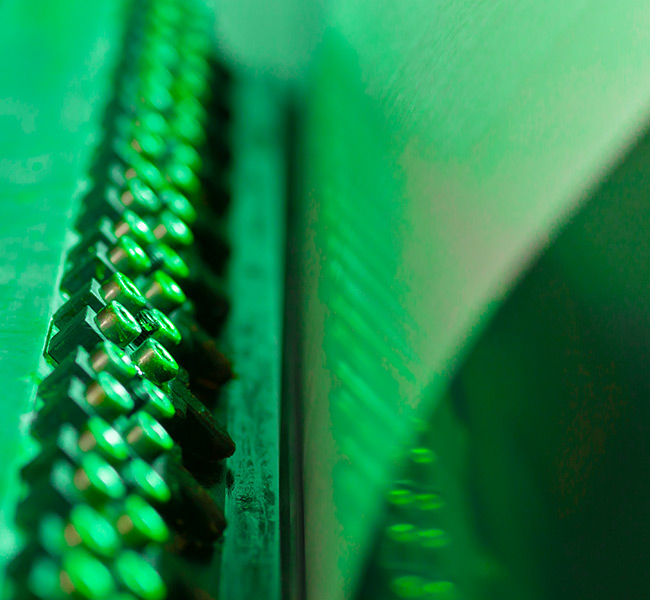 Precisely tailored to the purpose
We employ our extensive skills to connect different materials and surfaces using state-of-the-art technology and carefully selected adhesives. Our work often results in the creation of a completely new product – the optimal solution for your requirements. Double-sided or single-sided adhesive, permanent or removable, heat and cold resistant, on film, paper or fabric carriers, for machine or manual processing, on sheets or rolls – we have manufacturing processes to suit your exact needs. We are also happy to take on any special challenges you may have.
We work successfully for companies in the injection moulding technology, glass production, automotive, electrical and electronics manufacturing, telecommunications and solar technology fields. Everyone appreciates the all-round service of the KMB specialists: advice on which adhesives and materials to select, custom coating for perfect adhesive strength, production and processing using modern machines and delivery in the desired format.
Format: 200 mm to 700 mm (strip coating also possible) Normal coating weight: 30 to 100 grams (up to 1000 grams also possible depending on formulation)
---
An insight into the process
We process acrylic foams, films, non-wovens, electrical adhesive tapes, PE and PU foams, (UV) hot melt adhesives and more using our own coating and laminating machines. All products also undergo our constant checks to guarantee you consistent quality.
We make digital records and archive all of the production order's details, so that we can quickly supply you with repeat orders or make slight modifications to your existing specifications.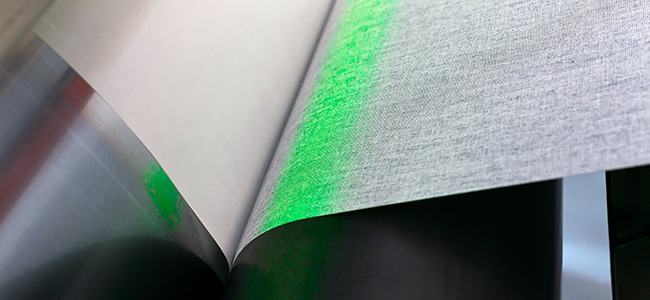 ---
Real-life examples
Our goal is to offer you solutions that exactly meet your requirements time and time again – whether it's for a small run or for series production. Here's a selection of example contracts which KMB were responsible for from development to production.
---
Sector: Glass and construction industry
The task:
Seal insulated glazing and fire protection glass with edge protection tape.
The solution:
The patented edge protection tape K-ALUDENSE® developed by KMB. It took many series of tests to develop the ideal combination of adhesive and carrier tape that could withstand the most adverse weather conditions and high strain.
The result:
K-ALUDENSE® is completely impermeable and can be processed quickly and cleanly. It reliably protects glass edges from penetration by moisture and effectively prevents the adhesive from bleeding. Thanks to its cushioning properties, the edge protection tape also reduces the risk of the sensitive glass edges from becoming damaged. The patented product from KMB is now in use worldwide.
---
Sector: Glass and construction industry
The task
Permanently protect the sensitive edges of insulated glazing and fire protection glass and make the handling of heavy glass during installation easier.
The solution:
KMB developed a sliding tape specifically for the manufacturers of insulated glazing and fire protection glass. The tape, which is made of extremely hard-wearing film, solves two problems at once: 1.) It protects the sensitive areas from small stones or irregularities on the substrate. 2.) Handling heavy panes during transport and installation is made much easier. The film-layered glass edges allow the glass to slide easily into the desired position. KMB sells the protective tape in any desired width on rolls for easy processing.
The result:
The glass, which is often heavy, is considerably easier to handle. At the same time the risk of damaging the glass during transport is reduced. This alone makes the use of the edge protection tape worthwhile.
---
Sector: Automotive industry, household appliance manufacturers
The task:
Punched adhesive films were needed for vehicle production to permanently install injection-moulded parts on the body, wheel hubs and interior. However, the surface conditions were different.
The solution:
The K-MOUNT adhesive system developed by KMB is precision punched to shape, thus creating a permanent, highly resilient connection between the injection-moulded part and the adhesive surface. The KMB adhesive system thus adapts perfectly to the texture of the surface.
The result:
K-MOUNT is used for attaching vehicle badges and emblems to the bodywork and rims etc. K-MOUNT has also proved to be effective in the production of household appliances. The product's advantages include:
long lasting
adheres to the "form follows function" principle
high adhesive strength on different surfaces
The solution developed by KMB for connecting all different kinds of punched parts is an excellent alternative to the otherwise time-consuming processes of welding, riveting and drilling.
Already have a specific project in mind? Still need innovative ideas to make your processing or production more efficient and cost-effective using modern adhesive technology? Or would you like have a one-on-one conversation with KMB to find out more? If so, please get in touch with us.
---
See the other services der KMB Klebetechnik GmbH offers.